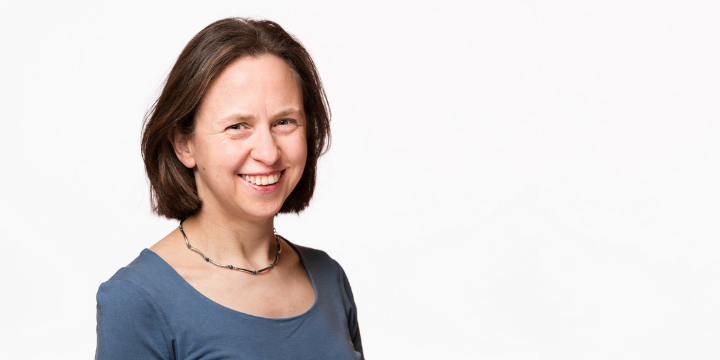 On 12 November, Nicola Perrin MBE began her new role as CEO of AMRC. We spoke to Nicola about her new position at AMRC.
Please could you tell us about yourself and your career to date?
Whilst I've recently taken on the role as CEO at AMRC, I'd been covering as their Director of Policy and Public Affairs for a few months prior and was a trustee for two terms. Before this, I worked 14 years at Wellcome, leading the Policy team and steering the development of their strategic health data priority, focusing on issues across open data and research.
I'm a scientist by training, but ultimately decided to move into science communications, beginning my career at the Science Museum. The consistent theme throughout my career so far has been translating science to various audiences, whether it's the public, or policy makers, and then helping ensure that science and its societal benefits are communicated as effectively as possible.
What are most excited about in your new role as CEO?
I'm excited to learn even more about the incredible work our charities are doing whilst being in the position to help and support them to be as effective as possible within their fields.
AMRC represents charities from the very biggest in the UK, through to some of the smallest that fund only a few grants per year, and they all showcase brilliant innovation. For example, the Cystic Fibrosis Trust registry holds data of every individual with Cystic Fibrosis in the country. It has been an invaluable asset in supporting and monitoring the safety and effectiveness of drugs, and with the help of AI, it has been able to identify those at risk of future exacerbations of CF.
What does the future look like at AMRC?
Medical charities were hit hard during the pandemic. It's going to take time for the sector to get back to full strength and to have the same amount of funding to put towards medical research, but at the same time, our charities have continued to respond to their patients' needs. There's a lack of understanding around what charities contribute to medical research, so I want AMRC to focus on communicating how vital their role is, bringing to light the integral work they do.
We also want to do more to highlight the opportunities for partnerships for our members with other funders – this was shown to be immensely important during the pandemic. And of course, AMRC will continue to provide support and more for charities on how to be responsible research funders, giving our members the up-to-date guidance they need to address equity and diversity in research, patient involvement and the research culture.
What role does open research play in advancing medical research?
I think the role open research plays is hugely important! With open research, knowledge and research results are made available quickly. It's meaningless conducting amazing research if nobody knows about it. Open research enables researchers to be as efficient as possible, increasing the connections between different areas of research and to rapidly share learnings, even if they are null/negative results. All of this builds our knowledge base, improves reproducibility, and reduces research waste.
Again, COVID has demonstrated the importance of having access to data and evidence as quickly as possible. New breakthroughs were enabled by the open sharing of science and research findings.
Why do you think it's important for medical researchers to publish their research open access?
The public donates their money to fund the research, we have an obligation to demonstrate exactly what happened with that funding and what it resulted in. It's also important for the patients, who the research can directly affect.
It's paramount for researchers to limit research waste and to ensure every pound of funding is supporting the best possible research it can. By openly publishing negative results other in the research community will be made aware and avoid duplicating research.
How do you see open research within the medical research industry evolving?
We're finally beginning to see innovative publishing models and we will continue to see more in the coming years. We're thrilled to have recently extended AMRC Open Research to all researchers funded by any member charity or supporter organisation, as well as those working at affiliated institutions, centres, or research networks. Open research enables rapid publishing, transparency throughout the open peer review process and the flexibility of being able to publish a wide range of articles.
I think data science will start to play an important role as the scale of information and data we produce continues to grow. AMRC's recent 2021 impact report showed that over 20 years, 10,000+ grants from 49 AMRC member charities have produced over 73,000 publications. There are so many articles published every day, it's not possible for any researcher to keep up with that. Data science approaches such as flagging relevant papers to relevant researchers or to even use AI to make connections through tech mining will become crucial in the future.
The Association of Medical Research Charities (AMRC) is a membership organisation that supports over 150 medical research charities to produce high-quality research by influencing policy and research, and highlighting the sector's contribution to patient and public health. Visit AMRC Open Research to learn more about the platform and view the published articles. Please contact us if you have any questions and start submitting.
---