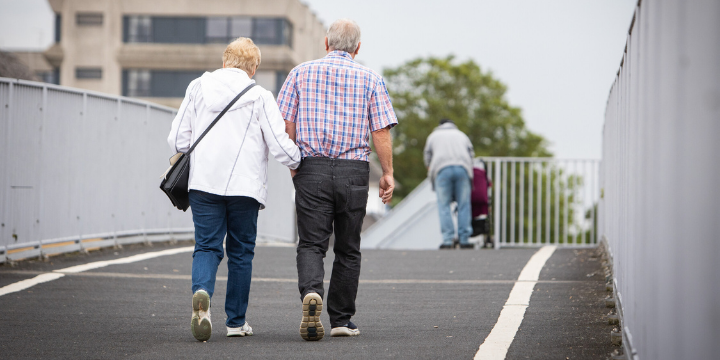 A rigorous research article recently published on AMRC Open Research identified the impact the COVID-19 pandemic had on hospice services in the West Midlands. We spoke to corresponding author, Dr John MacArtney, about his findings and the difficulties he faced conducting research at such a challenging time. Keep reading to discover more.
First things first, please introduce yourself.
My name is Dr John MacArtney; I'm a dying and palliative care sociologist. I'm currently a Marie Curie Senior Research Fellow in the Unit of Academic Primary Care at Warwick Medical School.
Your recent study investigates the effects of the COVID-19 pandemic upon lived experiences of hospice services in the West Midlands. Tell us, how did this study come to fruition?
The study was funded via the UKRI (ESRC) Agile Research and Innovation Response to Covid-19 call. We applied as we were aware there was an opportunity to specifically examine the changes the pandemic was bringing to hospice services and explore the impact upon the lived experiences of receiving or providing hospice care. At the time the study was funded, it was unique in that we sought to provide an in-depth and rich description of the pandemic's effects on hospice care and services, as well as provide a focus on the uneven social and relational experiences of people with life-limiting conditions during the pandemic.
What did you find?
At the start of our research project, we realised that there were a lot of potential issues that we could look at with our study. Still, with limited time and resources, we wanted to identify some key themes we could focus on during our interviews. Normally you would undertake a systematic literature review at the start of the study to identify critical issues and gaps in knowledge you might anticipate addressing with your research. However, there was very little peer-reviewed literature available on the impact of Covid-19 on hospices in March 2021.
So we undertook a three-pronged approach: a review of what literature that was available, a focus group with hospice stakeholders, and a collaborative knowledge exchange panel with researchers and Patient and Public Involvement (PPI) representatives. By doing this we were able to identify nine themes under two main headings: 'Hospices as an overlooked service'; and 'Impact upon the quality of hospice care'.
Did you face any challenges throughout your study?
Yes! Conducting research during the pandemic was challenging. Although not reported in this paper, we were recruiting people with life-limiting conditions for interviews, along with their informal carers, hospice staff, and senior hospice managers. Doing this remotely meant we had to call on the time and goodwill of hospice staff to identify and approach participants at a time when they were already working above and beyond. We were extremely grateful for the hospice stakeholders who gave up some of their time to meet with us in the focus group and for sharing their experiences of some very difficult times that they have faced. That meeting, and this paper, is just the start of what I expect to be a long period of reflection on the impact of the pandemic on hospice care.
What impact do you hope your findings have for the future of hospices?
The knowledge synthesis was primarily for our benefit when we started it, so we had some idea of what other research was taking place in the field, what their initial findings were, and what the developing picture of the impact of the pandemic on hospices was.
As we pulled that information together, we realised that this would be of interest to not only other researchers, but for hospice staff, hospice service providers, and the public. In fact, it was a comment from one of our PPI representatives that convinced me to turn a draft into a paper for publication. And I am glad we did – I have since been contacted to be told the paper was helpful for a group of clinicians who were trying to identify the different ways the pandemic had affected them and their hospices – that's more than I could have hoped for.
Why did you choose to publish with AMRC Open Research?
We wanted the paper to reach as wide an audience as possible, including non-academic clinicians and the public – as quickly as possible. As the platform is fully open, I knew AMRC Open Research provided the best way to achieve that.
What are the next steps for your study?
We are currently analysing and writing up findings from four interview cohorts (patients, carers, hospice staff, and senior hospice managers), as well as producing a review and synthesis of policy recommendations for hospices. Links to these outputs will be available on the study website, or on my Twitter page.
Read the full Research Article on AMRC Open Research today to learn more about the impact of the Covid-19 pandemic on hospices.
---