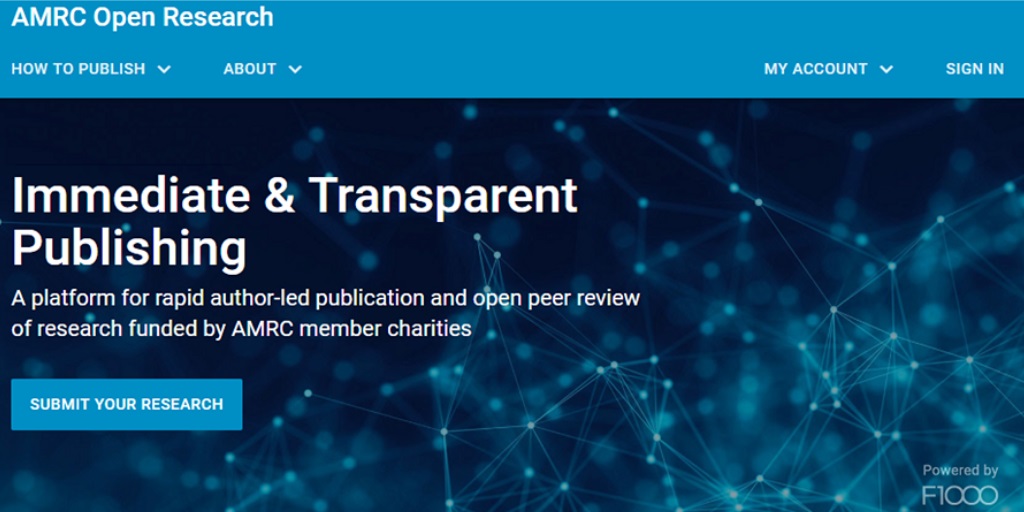 The wait is over! We are excited to announce that 24 members of the Association of Medical Research Charities (AMRC) have launched a new publication platform; AMRC Open Research. The platform gives researchers funded by the 24 charities the ability to share any and all of their research results in a transparent and accessible way.
In this blog Philip Dooner, Associate Publisher at F1000 Platforms and Dr. Jocelyn LeBlanc, Impact Analyst at AMRC discuss the motivations behind establishing AMRC Open Research and their hopes for the future of this publishing platform.
Why develop AMRC Open Research?
Medical research is the most popular charitable cause in the UK, with over 8 million people donating to a medical research charity in 2017. Charities rely on these generous donations to fund essential research that increases our understanding of human health and disease, and that leads to new ways to prevent, diagnose, treat and manage health conditions. Unfortunately, due to the current traditional landscape of publishing, the results of this vital research can often take a long time to be published, get held behind expensive paywalls or in some cases fail to be published at all.
That is precisely why over the last year, AMRC has worked closely with 24 of its members and F1000 to develop and now launch AMRC Open Research.
The publishing model pioneered by F1000 encourages openness, efficiency, and transparency far more than that of the current traditional publishing model. AMRC Open Research will welcome many types of research outputs including; qualitative and quantitative data, negative and null results and replication studies. These will all be shared as easily as traditional research articles which will minimise research waste. The platform also actively encourages researchers to share their data which can help validation of results, but which also allows data reuse and facilitates future collaborations.
For many of the participating charities, their supporters and beneficiaries, the real-world impacts of research cannot come soon enough. The waiting periods within the standard publishing process are simply too long, adding unnecessary delays and slowing research progress. AMRC Open Research allows researchers to publish their research in a matter of days. Without publication delays, research is immediately available to the global research community to spark new ideas and understanding and to make sure new interventions and treatments can reach those that need them as soon as possible.
Working in collaboration
One of AMRC's strategic aims is to facilitate new collaborations and partnerships between members to maximize available resources and results. AMRC Open Research is an excellent example of charity collaboration in action. By working together, the participating charities have created a shared platform that they could not have developed alone. By collaborating the charities have not only minimised the resources needed by each charity, but they have also maximised the number of researchers that will benefit from the chance to publish their work in this new way.
Over the next year, AMRC will give our wider membership the opportunity to sign up to be part of AMRC Open Research to further maximise the benefits the platform offers.
A look to the future
In the last few years, both Wellcome and the Gates Foundation have launched successful open research platforms. Going forward we have every confidence in the success and impact that AMRC Open Research will have on the participating charities, their researchers and those living with or affected by the conditions being researched.
Initiatives like DORA and Plan S are changing the traditional scientific publishing landscape. Although these changes won't happen overnight, platforms like AMRC Open Research are already fully compatible with the changes these initiatives advocate.
There are a huge number of competing pressures on researchers' time. We hope that by simplifying the publication process to make it more open, rapid and cost-effective researchers will save valuable time and money. This can then be spent carrying out more vital research to improve the lives of the communities AMRC members support.
To learn more about AMRC Open Research or to view any of the published articles please visit amrcopenresearch.org
---